Jeep Suspension
BONZ leaf spring shackles are CNC machined from 3/8" mild steel, feature our unique 'bone' design and are powder coated for long lasting good looks. There are three different designs and many lengths available. We do not recommend more than 1" of shackle lift (2" longer than stock), our 6" C-C shackles are the longest we offer. We offer 2", 2 1/2" and 3" widths. Please contact us for local retailers.
Bonz 'Boomerang' style Shackles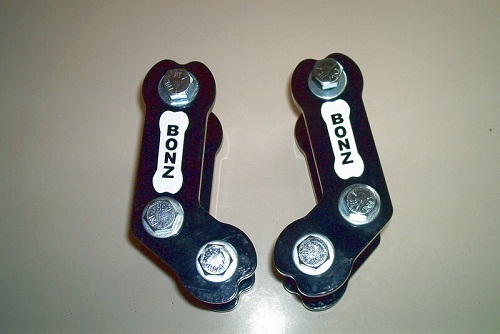 Our 'boomerang' style YJ shackles were originally designed for use on the rear of 1987-1995 Jeep Wranglers. These have become so popular with the leaf spring bunch, that we have seen these on the front and rear of YJs' and CJ's.